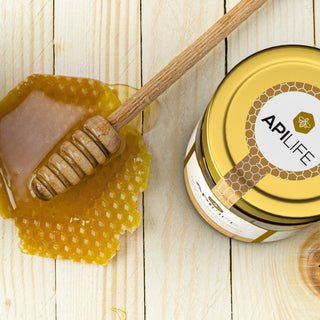 Our Mission
We are committed to crafting healthy honey blends that push the boundaries of conventional flavors and ingredients.
we aim to change the game and offer a truly unique taste with an exceptional healthy impact
if you like to know more, read below
About US
Welcome to the captivating world of APILIFE Honey, where innovation, passion, and uniqueness intertwine to create a truly extraordinary brand. Our journey began with a deep admiration for the remarkable properties of honey and a mission to redefine the concept of gourmet honey.

Despite its challenges, our business has shown remarkable resilience, however, we have never been complacent. We constantly reinvent ourselves, staying ahead of the curve and consistently bringing new and exciting products to the market.

APILIFE Honey is not your average honey brand. We proudly occupy a niche in the market, offering something truly exceptional. Our commitment is to provide what others cannot – unique honey sourced from special flowers, including the rare and coveted blackseed flower. These flowers are meticulously chosen for their distinct flavors and unparalleled health benefits, resulting in a honey that surpasses expectations.

But we don't stop at mere monofloral honey. We take innovation to new heights by crafting daring and delectable blends, infused with exotic herbs that not only tantalize the taste buds but also possess extraordinary health benefits. Imagine the harmonious combination of honey and bee venom, meticulously curated to provide a one-of-a-kind experience that invigorates and rejuvenates. Or indulge in the sumptuous pleasure of honeycomb coated with rich Belgian chocolate. Even the offering of Korean Ginseng or Green Propolis with Honey! These bold creations are a testament to our boundless creativity and unwavering dedication to offering a unique and unrivaled honey experience for a much healthier lifestyle.

Fueling our brand is a genuine passion for honey and health. We believe that food should be an exploration of worldly blends, rather than a synthetic creation. Our purpose is to encourage consumers to appreciate the intricacies and flavors that can only be found in nature's finest ingredients.

To ensure utmost quality, every step of our production process is executed with meticulous care. Our products are lab-certified, guaranteeing that you receive nothing but the very best. We take pride in constantly pushing the boundaries of what honey can be, crafting products that defy convention and surpass expectations.

Join us on this extraordinary journey and awaken your taste buds to the wonders of APILIFE Honey. Experience the richness of blackseed flower honey, and savor our unique blends infused with exotic herbs. Let us redefine your understanding of honey, taking you on a sensory adventure that will forever change the way you perceive this golden elixir.

Indulge in the richness of APILIFE Honey and savor the unparalleled flavors and health benefits that await you. Together, let's celebrate the beauty of nature and the art of fine honey-making. It's time to embrace the extraordinary and experience the magic of APILIFE Honey.
APILIFE Honey is revolutionizing the gourmet honey industry in Canada by introducing rare and unconventional ingredients in our honey products, providing consumers with unique flavor experiences and bundling exceptional health benefits. One of our most sought-after products is honey with green propolis, something that was not previously available in Canada. By offering this relatively rare ingredient, we have taken honey-making to new heights, demonstrating our commitment to providing unique and unparalleled honey experiences.

In addition to green propolis, another rare bee product that we exclusively offer is bee bread, which is highly packed with nutrients and antioxidants. The use of such natural and uncommon ingredients sets us apart from competitors and redefines the paradigm on honey-making and products; our customers receive the most nutritious honey on the market, something they cannot get elsewhere.

We also craft unconventional honey blends, such as bee venom with manuka honey, which offer significant health benefits and are considered unique to our brand. We have perfected the craft of blending honeycomb with Belgian chocolate, creating a flavorful and sensual experience that is a work of art.

Our cinnamon honey is another product that distinguishes us from other honey-makers. What makes it stand out is the use of Ceylon cinnamon, which is far superior to the store-bought cinnamon in terms of flavor, texture, and health benefits. By using the best natural ingredients on the market, we emphasize the importance of healthy and natural living, an experience that customers value.

At APILIFE honey, we thrive on authenticity, purity, and commitment to quality. Our honey products are never pasteurized or adulterated, and we go as far as providing a $4000 guarantee for anyone who can disprove our honey's purity. Our primary objective is to provide our customers with the highest quality and healthiest honey products possible. This approach has earned us several awards, including consecutive victories at the International Honey Awards in London.

Overall, APILIFE Honey is changing the game in Canada's gourmet honey market by offering unique and high-quality products you cannot find elsewhere. Our passion for honey-making, commitment to healthy living, and unwavering dedication to quality is evident in every batch we produce. Try APILIFE Honey, savor a world of taste, and jump-start your journey to a more refreshing life.
Leave us a request or a suggestion as our research team is always looking for new challenges!
APILIFE Honey actively strives to make a positive impact in our local community in several meaningful ways. We believe in being an integral part of cultural and national celebrations, embracing diversity, reducing carbon footprints, minimizing waste through eco-friendly packaging, and creating job opportunities for students and youth.
Cultural and National Celebrations:
We actively participate in cultural and national celebrations, such as food festivals, fairs, and events, where we highlight the richness of our honey products. By showcasing the diversity of flavors and blends we offer, we contribute to the culinary heritage and traditions of our local community. Our presence at these celebrations not only promotes our brand but also supports local artisans, farmers, and other small businesses, fostering a sense of community and pride.
Embracing Diversity:
APILIFE Honey celebrates diversity within our team and in our interactions with customers. By embracing diversity, we create an inclusive and welcoming environment where individuals from different backgrounds and cultures can thrive. Our commitment to diversity extends to our business practices, including our supply chain, to ensure fair and equitable partnerships with suppliers and beekeepers, respecting and valuing their contributions.
Reducing Carbon Footprints:
We understand the importance of environmental sustainability, and reducing carbon footprints is a priority for us. We actively monitor and minimize our carbon emissions throughout our operations. From implementing energy-efficient processes to optimizing our transportation logistics, we work towards minimizing our environmental impact. By doing so, we contribute to the well-being of our community, ensuring a cleaner and greener future for all.
Reducing Waste through Eco-Friendly Packaging:
APILIFE Honey is dedicated to reducing waste through the use of eco-friendly packaging solutions. We prioritize sustainable materials that are recyclable, biodegradable, or made from renewable resources. By choosing responsible packaging options, we aim to minimize waste and actively support the transition towards a circular economy. Our commitment to eco-friendly packaging demonstrates our dedication to preserving the environment and minimizing our ecological footprint.
Offering Jobs to Students and Youth:
As a socially responsible company, we prioritize providing job opportunities to students and youth. We believe in nurturing talent, providing training, and offering employment opportunities that not only build skills but also empower young individuals. By creating these job opportunities, we contribute to the personal and professional growth of students and youth, fostering economic development and supporting the future sustainability of our local community.
In conclusion, APILIFE Honey strives to make a positive impact in our local community by actively participating in cultural and national celebrations, embracing diversity, reducing carbon footprints, minimizing waste through eco-friendly packaging, and offering job opportunities to students and youth. By aligning our business practices with these values, we aim to contribute to the well-being and growth of our community, making a lasting and positive impact that goes beyond our honey products.
For APILIFE Honey, the next year comes with exciting goals and aspirations. We are committed to expanding our range of exotic blends, offering our customers new and unique flavor experiences. Our focus will be on sourcing rare and unconventional ingredients to create blends that are unmatched in the gourmet honey industry.
In addition to exotic blends, we are dedicated to developing healthier blends that boost the nutritional value of our honey products. We will continue our research and innovation efforts to combine honey with superfoods and beneficial ingredients, ensuring our customers receive the maximum health benefits from our products.
Packaging plays a crucial role in our brand image, and we aim to improve it further next year. Our goal is to create packaging that is not only visually appealing but also eco-friendly and sustainable, aligning with our commitment to environmental responsibility. We believe that exceptional packaging enhances the overall customer experience and reflects the premium quality of our honey products.
Education is a priority for us, and we have ambitious plans to educate more people about the health benefits of our unique blends and monofloral honey. We will launch educational campaigns, online content, and workshops to spread awareness and empower consumers with knowledge about the natural goodness and therapeutic properties of our honey.
As we continue to grow, we are determined to reach new demographics and inspire them to expect nothing less than the exceptional standards we have set. By engaging with different age groups, cultures, and health-conscious individuals, we aim to penetrate new markets and become a trusted and preferred brand for a wide range of consumers.
Expanding into the body care products market is one of our next strategic steps. We recognize the potential of infusing honey into body care products, as honey offers incredible moisturizing and rejuvenating properties. By developing a line of honey-infused body care products, we aim to enhance our customers' well-being, providing a holistic experience that extends beyond the kitchen.
In summary, next year holds bright prospects for APILIFE Honey. Our goals encompass introducing exotic and healthier blends, improving packaging, educating more people about the health benefits of our products, expanding our customer base, and venturing into the body care market. These goals reflect our commitment to innovation, sustainability, customer satisfaction, and promoting a healthy and natural lifestyle.